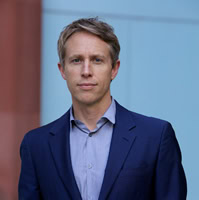 Luke Williams, one of the world's leading business thinkers on innovation strategy, will speak about business disruptors at the annual ACUMA Fall Conference in Las Vegas, September 24-27, 2017.
Williams, author and globally recognized authority on disruptive innovation, reveals a way of thinking that has the power to transform your business and stay ahead of the game. He is one of the leading presenters at this fall's ACUMA event, built around the theme "Driving into the Digital Age."
Williams fits the bill. His views are regularly featured in media ranging from Bloomberg BusinessWeek and Fast Company to The Wall Street Journal and The Economist. He is the author of the international bestseller, "Disrupt: Think the Unthinkable to Spark Transformation in Your Business."
A Professor of Marketing at New York University's Stern School of Business, Williams also is Founder and Executive Director of the W.R. Berkley Innovation Labs, and a Fellow at Frog Design—one of the world's most influential product strategy and design firms.
The ACUMA Conference will be held at the Bellagio Resort and Casino on the colorful Las Vegas Strip. The event begins with an opening reception on Sunday night, September 24, and ends its final session about 3 p.m. on Wednesday, September 27. The conference features a "digital" focus on new technology and disruptors to the traditional mortgage pipeline.
Conference registration is open.  Once registered, you can follow the link to hotel registration for the dates you need. Early registration assures you of room reservations at the conference site and allows you to get the best air fares by booking ahead.
REGISTER NOW
We'll post the agenda and other details, as well as speakers and special events as they are confirmed. But be assured: We're planning some new twists to help you in the digital age. For updated information visit the ACUMA website here.
The ACUMA Conference brings together the nation's top mortgage-lending credit unions and the industry's leading experts for three days of learning and networking. We hope to see you in Las Vegas in September.
Bob Dorsa is the president of ACUMA, the American Credit Union Mortgage Association. Contact him at bob.dorsa@acuma.org or (877) 442-2862.