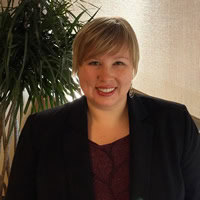 Jessica Lautz, the Director of Survey Research and Communications for the National Association of Realtors (NAR), will speak at ACUMA's Fall Conference about "The Technology Trifecta: Buyers, Sellers and Realtors."
Realtors have been on the forefront of changing technology over the last two decades. In her presentation Lautz will explore how they have embraced the change, what has stayed the same in their business, and what buyers and sellers want and need.
At NAR, the core of Lautz's research focuses on demographic trends for both NAR members and housing consumers. She focuses on issues that include:
• How housing preferences shift in an ever-changing marketplace.
• Consistent trends of consumers for the desire to own a home.
• Consumers' search to find a real estate agent.
• Buyer psychology.
Lautz will lead a Breakout Session on the second day of the conference in Las Vegas, September 24-27, 2017.
As an ACUMA Conference speaker, Jessica Lautz joins Steve Williams, co-founder of Cornerstone Advisors and an expert on banking operations and delivery systems; Kristin Messerli, an expert on developing strategies to recruit and retain young talent; and Luke Williams, one of the world's leading business thinkers on innovation strategy and business disruptors, as announced speakers at the annual ACUMA Conference.
The ACUMA Conference will be held at the Bellagio Resort and Casino on the colorful Las Vegas Strip. The event begins with an opening reception on Sunday night, September 24, and ends its final session about 3 p.m. on Wednesday, September 27. The conference features a "digital" focus on new technology and disruptors to the traditional mortgage pipeline
Conference registration is open.  Once registered, you can follow the link to hotel registration for the dates you need. Early registration assures you of room reservations at the conference site and allows you to get the best air fares by booking ahead.
REGISTER NOW
We'll soon post the agenda and other conference details, as well as speakers and special events as they are confirmed. But be assured: We're planning some new twists to help you in the digital age. For updated information visit the ACUMA website here.
REGISTRATION REQUEST FORM
ACUMA offers a fillable "Request to Attend" the conference document on our website here. It provides details about the conference, including topics, speakers, dates, location and registration cost. It's a great way to help your manager understand the benefits the conference provides.
The ACUMA Conference brings together the nation's top mortgage-lending credit unions and the industry's leading experts for three days of learning and networking. We hope to see you in Las Vegas in September.
Bob Dorsa is the president of ACUMA, the American Credit Union Mortgage Association. Contact him at bob.dorsa@acuma.org or (877) 442-2862.